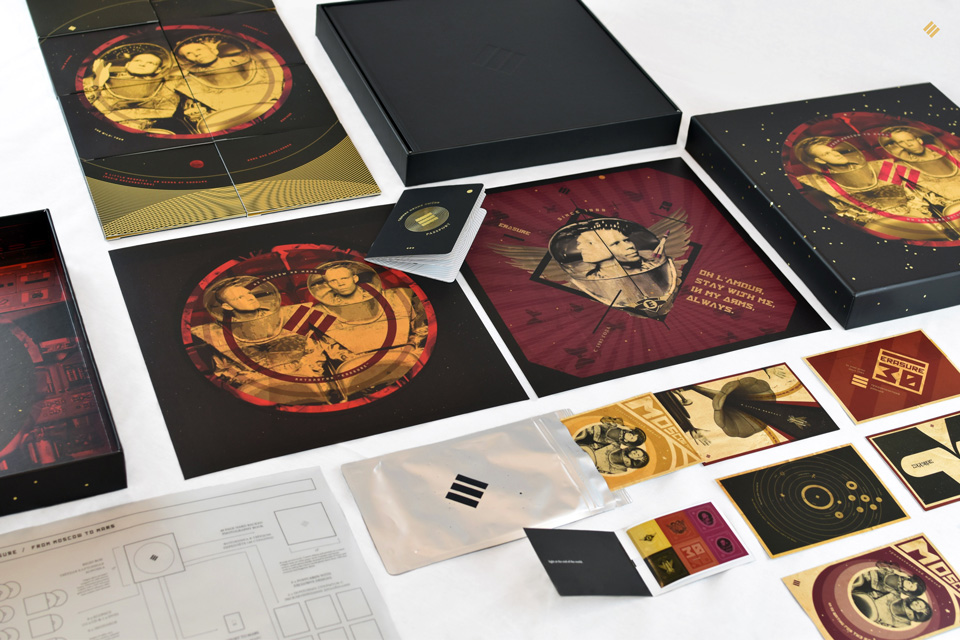 Erasure: From Moscow To Mars

(30th Anniversary Box Set)

/ Box set
/ LPs
/ CDs
/ Book
/ Memorabilia

/ AIM Award Nomination & Shortlist for
'Best Special Package 2017'





B R I E F

To create a limited edition box set that celebrates Erasure's 30th anniversary.

The title of the package 'From Moscow To Mars' was derived from a lyric in their hit song 'Star'; and was a great way of describing the band's extraordinary career. This will ideally lead the creative direction. The box set is to be aimed at both hardcore fans and the general market – the style should celebrate the band's success with elements that a true fan would appreciate, while not alienating the general public by being too obscure.

C O N C E P T

The idea was to put you, the audience, in the hearts and minds of the artists as they travel in space through 3 decades of their work - which is also represented in the 3 striped 'E' logo.

The concept was explored in 3 main areas:

Physical Depiction – what a rocket to space would look like if the band owned one (exterior and interior), using the box lid as the cockpit window. How you would travel to space (using a passport), how you would let people know you are in space (with space post cards and stamps).

Emotion – how the artists would feel and behave traveling through space, relating to their colourful personalities and successful career – portrayed in pages within the book, in a personal message inside the passport, and visually represented in the art cards that illustrate their 30 year anthology.

Touch – using special production techniques to enhance the experience and give an 'official' feel, from the gold foil blocked stars, and soft-touch passport, to the debossed hardback book, box lid, and laser-etched inner foam with the 'E' logo.

The theme of Russian constructivist art married with abstract space travel was used as creative direction to stay true to the title 'From Moscow To Mars'. All items included; from the galactic passport, blue-print package details, to the space journal photo book and space food packaged art cards, were all designed with depth - using lyrics, memorable dates, iconic imagery previously used by the band, and Russian characterised typography and layout (along with actual Russian text) to further enhance and bring the concept to life.